Projectcoach Consulting Ltd.
The main purpose of our company is to improve the overall efficiency of projects by developing the operational processes (business analyst, project management, portfolio governance and management) as well as the colleagues operating the processes.
According to our experience and the available statistics, almost 50%(!) of the work done in projects does not include the most important business tasks. We consider the main reasons for project difficulties as understanding and analyzing the business problems and the difficulties of prioritization. We have the knowledge of how to do this more efficiently, faster and with less stress. With the help of our unique business analyst and requirements management methodology, the Business Value Management, which is based on our experience and the PMI standards, we increase our partners' ability to deliver projects and business value, which can be operated in agile environment or as an alternative. Our motto: MORE, BETTER, FASTER!
Our trainings are aimed at incorporating practical, usable knowledge that contributes to corporate success and the professional development of colleagues. With more than forty years of training experience and more than a thousand training participants behind us, we support our clients deliver their projects for the reason they started.
Our company: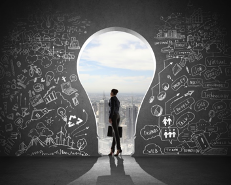 builds trust
creates value
customizes solutions
Our trainers and colleagues are the best in their professions, experts in the given topics. They transfer the essence of their theoretical and practical knowledge in such a way that our customers receive truly usable systems, mindset and information which can be implemented from the very next day.
We are proud that even the largest, market-leading companies in Hungary rely on our expertise. Our clients are multinational companies and motivated professionals who build their careers. In our trainings we train project managers, business analysts, system analysts, PMOs and portfolio managers. In addition to trainings, we help companies develop with system support, consulting and Business Analyst labour sevices.
Our core values:
Business context: we believe that projects should bring business results. We are working to make this business result as big as possible.
Transferring practical, ready-to-use knowledge: Our feedbacks show that some part of the acquired knowledge is immediately integrated into everyday practice.
Credibility: all of our colleagues and trainers have practical experience, they have tried what they teach, so can provide real examples and useful advices to the participants.
Based on our "From professionals to professionals" approach, our trainings are primarily based on professional discussions, transfer of knowledge and experience.
We teach you to think: in our trainings we place great emphasis on learning attitudes and ways of thinking. We believe that methodologies and tools provide great support for everyday work, but they cannot become the goals themselves.
Our practical PMO training is unique in the Hungarian market.
We are the most experienced in Business Analyst trainings in Hungary.
By taking the PMI-PBA exam launched by PMI, you can gain internationally recognized knowledge and expertise in business analysis. We prepared 80% of the Hungarian candidates for the successful exam.
Our PMI-PBA exam preparation course currently has a success rate of 91%.
We have expanded our training with the introduction of a very topical agile approach today.
Address:1035 Budapest, Hunor utca 30. C. ép. lll. lház, Fsz 02.
Email: info@projektcoach.hu
Phone  +36 (20) 925 6229
Web: www.projektcoach.hu