<< Back to Calendar
Lunch & Learn: Labdarúgó Európa bajnokság szervezése Budapesten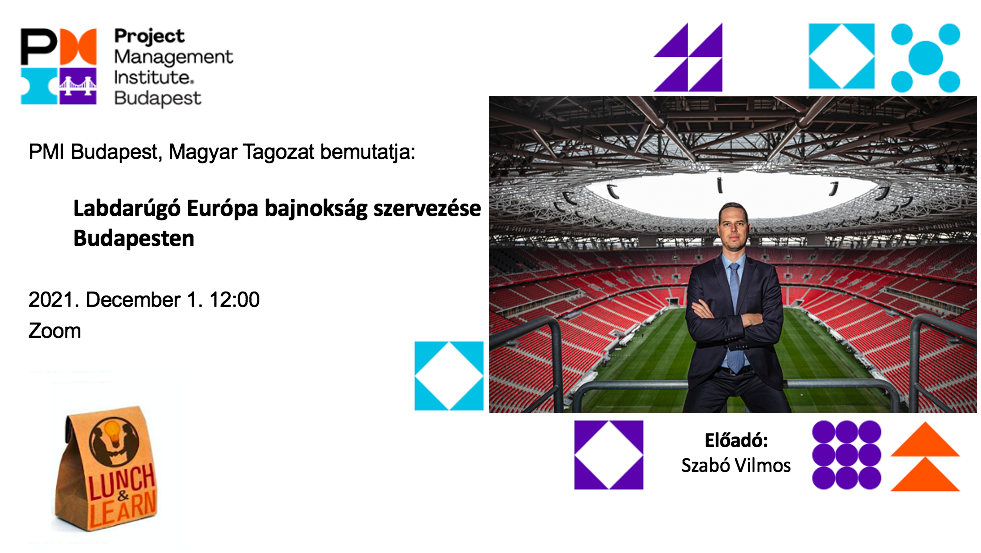 Ezúttal Szabó Vilmos – Magyar Labdarúgó Szövetség, Eseményszervezési osztályvezető – tartja meg előadását, Labdarúgó Európa bajnokság szervezése Budapesten címmel.
"Előadásomban szeretném bemutatni az EURO2020 szervezési folyamatát a pályázat megnyerésétől az EB végső, hármas sípszójáig valamint Eb szervezési és szerkezeti struktúráját, a projektek pontos szerepét a labdarúgó Európa bajnokság ideje alatt. 
Hogyan is történik egy esemény megszervezése, mik történnek a színfalak mögött!"


Előadó:Szabó Vilmos 
"Főiskolai tanulmányaim befejezése után rövid ideig Kalocsán dolgoztam, de már a tanulmányaim előtt és alatt is már külsősként dolgoztam az MLSZ-nél. 2013-óta dolgozom a Magyar Labdarúgó Szövetségnél főállásban, 2015 óta vezetem az Eseményszervezési osztályt, osztályomhoz tartozik az összes válogatott mérkőzés hazai megrendezése utánpótlástól a felnőtt csapat mérkőzéséig, beleértve a futsal és a női labdarúgást is. Ezen kívül az UEFA-nál megpályázott és elnyert projektek megszervezése is az osztály feladatai közé tartozik. Labdarúgó múlttal rendelkezem, rövid ideig Nb2-ben és Nb3-ban is megfordultam, huzamosabb időt viszont megyei I-es szinten játszottam, szülővárosomban Kalocsán."

Az előadás nyelve magyar! A rendezvényen való részvétel ingyenes, de regisztrációhoz kötött. A résztvevők 1 PDU pontot írhatnak jóvá.

Találkozzunk 2021. december 1-én, 12:00 órakor. 
Cancellations must be received by 5:00 pm, 5 business days before the event and must be sent in writing by email to info@pmi.hu. There will be a 20% administration fee charged for cancellations, subtracted from the refund. Cancellation/refund requests will not be accepted less than 5 business days before the event. However, substitutions are welcome. Please let us know by 12:00 noon the day before the event of the person you wish to substitute by emailing info@pmi.hu.
Photography & Filming: Photographs, audio, and video are sometimes captured during PMI Budapest, Hungarian Chapter events. By registering, attendees hereby grant PMI Budapest, Hungarian Chapter and its representatives permission to photograph and/or record them at events, and distribute (both now and in the future) the attendee's image or voice in photographs, videotapes, electronic reproductions, and audiotapes of such events and activities.
It is no longer possible to register for this event