<< Back to Calendar
PMSZ 36. Körkapcsolás konferencia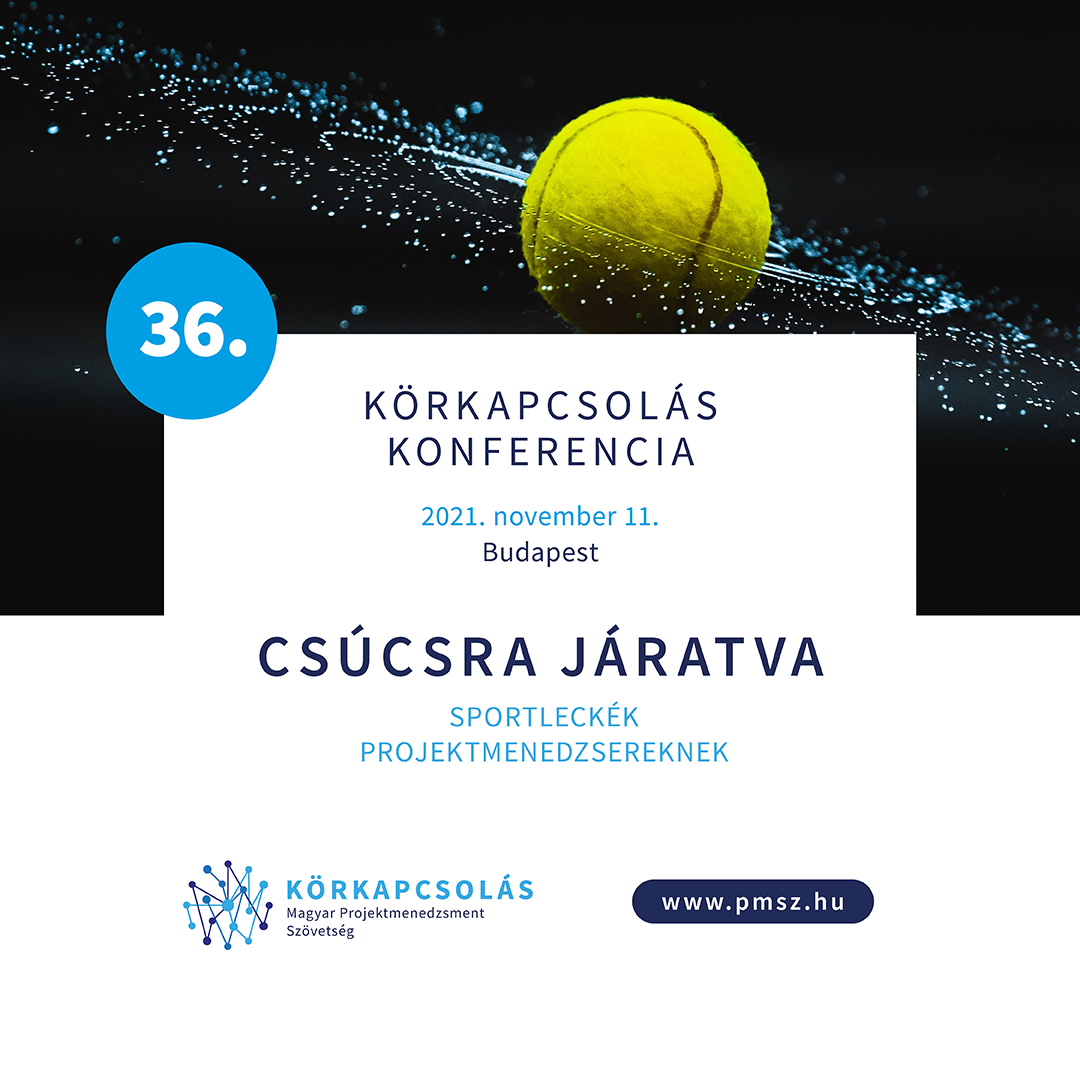 CSÚCSRA JÁRATVA – SPORTLECKÉK PROJEKTMENEDZSEREKNEK
Mit tanulhat egy projektmenedzser a sportolóktól felkészülésről, kudarcról, sikerről, optimális teljesítményről? Lehetnek-e egy olimpikonnak projektszponzori feladatai? Milyen projektek kapcsolódhatnak a sporthoz? Az olimpia évében ezeket a témákat járja körül a Magyar Projektmenedzsment Szövetség 36. Körkapcsolás konferenciája, melyre 2021. november 11-én kerül sor Budapesten, a Magyar Telekom Székházban (IX., Könyves Kálmán krt. 36.)
Több a hasonlóság egy sportoló és egy projektmenedzser között, mint elsőre hinnénk: végig kell gondolni a lehetséges kockázatokat, meg kell tanulni kezelni a váratlan helyzeteket, összekovácsolni a csapatot, figyelni a részletekre és kihozni magukból a legtöbbet, hogy elérjék a kitűzött célt.
A rendezvény résztvevői most elleshetik az olimpikonok felkészülésének, koncentrációjának titkait, megismerhetik egy olimpikonból lett projektszponzor rendhagyó karrierútját, és bepillantást nyerhetnek egy épülő multifunkciós sportcsarnok infokommunikációs rendszerének kialakításába is.
Az előadók között ott lesz Tóth Krisztián olimpiai bronzérmes cselgáncsozó, Pánczél Gábor férfi cselgáncs válogatott szövetségi kapitány, Járdán Tamás MCC, PMP®, MBA, Horváth Gergely vezérigazgató (Generali) és Török Andás Project Management CoE lead (T-Systems).
A PMI Budapest, Magyar Tagozat tagjainak a PMSZ 10 % kedvezményt biztosít a részvételi díjból.
Részletes program és jelentkezés: https://pmsz.hu/rendezvenyeink/36-korkapcsolas-konferencia/
Cancellations must be received by 5:00 pm, 5 business days before the event and must be sent in writing by email to info@pmi.hu. There will be a 20% administration fee charged for cancellations, subtracted from the refund. Cancellation/refund requests will not be accepted less than 5 business days before the event. However, substitutions are welcome. Please let us know by 12:00 noon the day before the event of the person you wish to substitute by emailing info@pmi.hu.
Photography & Filming: Photographs, audio, and video are sometimes captured during PMI Budapest, Hungarian Chapter events. By registering, attendees hereby grant PMI Budapest, Hungarian Chapter and its representatives permission to photograph and/or record them at events, and distribute (both now and in the future) the attendee's image or voice in photographs, videotapes, electronic reproductions, and audiotapes of such events and activities.
It is no longer possible to register for this event