<< Back to Calendar
Lunch and Learn: A PMI® tanúsítási keretrendszer 2021-es aktualitásainak bemutatása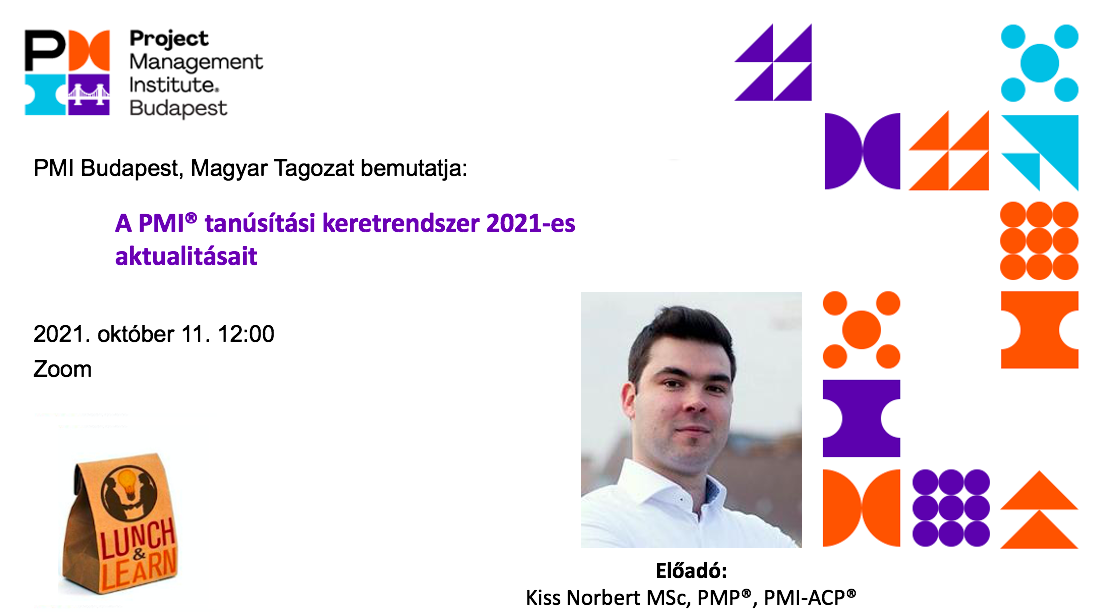 Győzze le a bizonytalanságot, építse önbizalmát és teremtsen szakmai tovább lépési lehetőségeket a PMI tanúsítványokkal. Mindannyian különböző karrierutakat követünk. Akár projektmenedzserként, akár elismert vezetőként teszünk lépéseket, egy dolog közös bennünk - különösen most. A karrier már nem egy lineáris út. A szerepek, iparágak és helyszínek közötti mozgás az új működési mód. A karrier út navigálása egy kanyargós ösvény lett a siker eléréséhez és a szakmai szenvedély lángra lobbantásához. A PMI tanúsítványok megmutatják a munkáltatóknak, hogy Ön rendelkezik a gyakorlati tudással, a rálátással és a szakmai szakértelemmel, hogy megfeleljen az egyre összetettebb projektkövetelményeknek. A minden tapasztalati szintre tervezett minősítésekkel mindig van egy optimális következő lépés a karrierje fokozására és felgyorsítására.

A PMI® tanúsítási keretrendszer 2021-es aktualitásainak bemutatása: Minden, amit tudnia kell

Tanúsítási keretrendszerünk eszköze minden lehetőséget tartalmaz - kezdve a PMI tanúsítványok gyors áttekintésével, a tapasztalati évek szerint rendszerezve. Előadásunk során bemutatjuk az egyes minősítésekkel kapcsolatos részleteket: mikor jelentkezhet, képzési követelmények, vizsgával kapcsolatos információk és még sok más. Úgy terveztük, hogy segítsen megtudni, melyik PMI-tanúsítvány a megfelelő az Ön számára - most és a jövőben. Érje el teljes potenciálját, és tegye magát nélkülözhetetlenné.
Cancellations must be received by 5:00 pm, 5 business days before the event and must be sent in writing by email to info@pmi.hu. There will be a 20% administration fee charged for cancellations, subtracted from the refund. Cancellation/refund requests will not be accepted less than 5 business days before the event. However, substitutions are welcome. Please let us know by 12:00 noon the day before the event of the person you wish to substitute by emailing info@pmi.hu.
Photography & Filming: Photographs, audio, and video are sometimes captured during PMI Budapest, Hungarian Chapter events. By registering, attendees hereby grant PMI Budapest, Hungarian Chapter and its representatives permission to photograph and/or record them at events, and distribute (both now and in the future) the attendee's image or voice in photographs, videotapes, electronic reproductions, and audiotapes of such events and activities.
It is no longer possible to register for this event