<< Back to Calendar
38. KÖRKAPCSOLÁS KONFERENCIA- Válság és a változásmenedzsment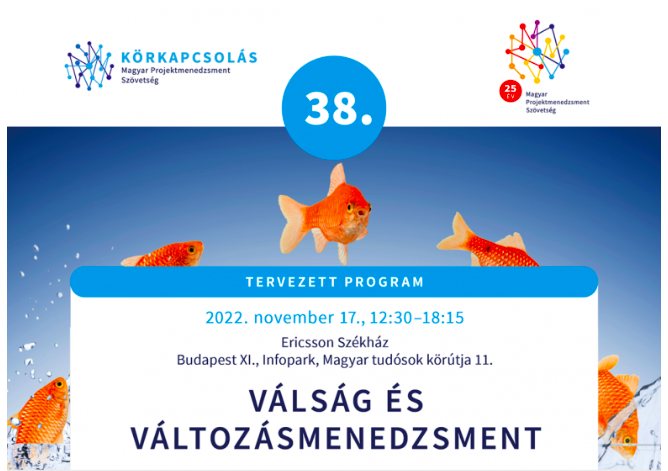 Hogyan érinti a válság a projektmenedzsmentet a különböző gazdasági ágazatokban? Milyen válaszokat találnak a kihívásokra a cégek?
A PMSZ 38. Körkapcsolás konferenciáján szó lesz a változások kezeléséről, a projektmenedzsment eszközök adta lehetőségekről, a válságmenedzsmenthez szükséges készségekről.
Az előadásokból kiderül, hogy mire számítanak a projektvezetők és hogyan reagálnak a vállalatok például az építőiparban, az energetika területén, a távközlésben vagy éppen a digitális oktatásban.
Előadók:
Prof. Dr. Noszkay Erzsébet,
Dr. Bodnár Viktória
Szabó Péter
Kovács Nándor
Felsmann Balázs
Tanka László
Ábrahám Zsolt
Több szektorból is hozunk gyakorlati projekt példákat, és ezúttal is lesznek interaktív szekciók a tapasztalatok megvitatására.
Te hogyan tekintesz a válságra: veszélyként vagy lehetőségként?
Tarts velünk november 17-én!
Bővebb információ: https://pmsz.hu/rendezvenyeink/38-korkapcsolas-konferencia/
Cancellations must be received by 5:00 pm, 5 business days before the event and must be sent in writing by email to info@pmi.hu. There will be a 20% administration fee charged for cancellations, subtracted from the refund. Cancellation/refund requests will not be accepted less than 5 business days before the event. However, substitutions are welcome. Please let us know by 12:00 noon the day before the event of the person you wish to substitute by emailing info@pmi.hu.
Photography & Filming: Photographs, audio, and video are sometimes captured during PMI Budapest, Hungarian Chapter events. By registering, attendees hereby grant PMI Budapest, Hungarian Chapter and its representatives permission to photograph and/or record them at events, and distribute (both now and in the future) the attendee's image or voice in photographs, videotapes, electronic reproductions, and audiotapes of such events and activities.
It is no longer possible to register for this event