<< Back to Calendar
Kettős könyvbemutató - ELTE PPK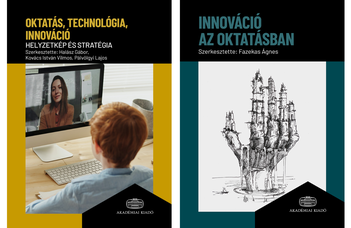 Az ELTE Eötvös Loránd Tudományegyetem Pedagógiai és Pszichológiai Karán kettős könyvbemutatóra kerül sor 2022.01.13. csütörtök 15 órai kezdettel, jelenléti és online (Zoom) részvétel mellett. 
Regisztráció: https://www.ppk.elte.hu/content/oktatas-technologia-innovacio.e.13534 
                 
Halász Gábor, Kovács István Vilmos, Pálvölgyi Lajos (szerk.):Oktatás, technológia, innováció: helyzetkép és stratégia.
Bemutatja: Horváth Ádám digitális oktatási szakértő. 
A nemzetközi és hazai példákat bemutató kötet a Digitális Oktatási Stratégiára épülő javaslatokat fogalmaz meg az oktatási innovációs stratégia technológiai pillérének kibontására. A koronavírus járvány előtt lezárult projekt ajánlásai a korábbinál is aktuálisabbá váltak a járvány kirobbanásával, hiszen a digitális technológia oktatási alkalmazása mindenki számára kikerülhetetlen napi feladattá vált. Eme kihívások és lehetőségek új fejezetet nyitottak a pedagógiai innováció területén.
 
Fazekas Ágnes (szerk.): Innováció az oktatásban. Az Innova kutatási projekt záró kötete. 
Bemutatja: Baráth Tibor, a Szegedi Tudományegyetem adjunktusa. 
A kötet az elmúlt évek egyik legnagyobb volumenű hazai empirikus oktatáskutatási projektjének eredményeit összegzi. A helyi innovációk keletkezésével, terjedésével és rendszerformáló hatásával foglalkozó kutatás rávilágít arra, hogy a hazai oktatási rendszer magasszintű innovációs potenciállal rendelkezik, ennek érvényesülése azonban számos tényező függvénye (szervezeti kultúra és menedzsment, egyéni jellemzők, kapcsolat a piaci szféra szereplőivel stb.) Az újítások és az innovációs projektek támogatása az oktatás megújulásának alapvető kérdése.  
 
Az Akadémiai Kiadó gondozásában megjelent könyvek elérhetők a Magyar Elektronikus Referenciamű Szolgáltatás gyűjteményében.

A rendezvényen való részvétel ingyenes, de regisztrációhoz kötött. A résztvevők 1 PDU pontot írhatnak jóvá.
Cancellations must be received by 5:00 pm, 5 business days before the event and must be sent in writing by email to info@pmi.hu. There will be a 20% administration fee charged for cancellations, subtracted from the refund. Cancellation/refund requests will not be accepted less than 5 business days before the event. However, substitutions are welcome. Please let us know by 12:00 noon the day before the event of the person you wish to substitute by emailing info@pmi.hu.
Photography & Filming: Photographs, audio, and video are sometimes captured during PMI Budapest, Hungarian Chapter events. By registering, attendees hereby grant PMI Budapest, Hungarian Chapter and its representatives permission to photograph and/or record them at events, and distribute (both now and in the future) the attendee's image or voice in photographs, videotapes, electronic reproductions, and audiotapes of such events and activities.
It is no longer possible to register for this event