<< Back to Calendar
Light Up 360 - 2022 - Powered by PMI Austria, Budapest, Croatia, Northern Italy, Slovenia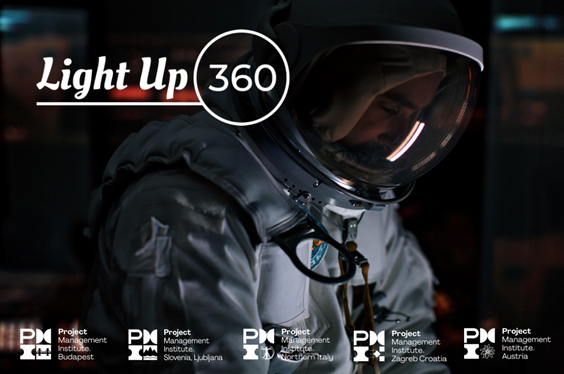 Light Up 360 is coming again in the online edition! This interesting 360-seconds format per presentation will take place on May 19, 2022, for the first time organized by PMI Croatia. It will bring together PMI experts from Austria, Croatia, Hungary, Northern Italy and Slovenia, providing participants the perfect opportunity to share knowledge and practice, exchange ideas and have fun in the process.

Light Up 360 embodies the already well-known competition of 360 seconds presentations in English, which will be presented by various project management experts from our PMI community. Attendees will have the opportunity to vote for their favourite presentation, and the winners will be announced at the awards ceremony - the three best presentations will also receive an attractive sponsor award. Participation in the event is an opportunity to earn 2 PDU points, while speakers will be able to earn 3 PDU points.

PMI Hungarian Chapter is looking for its speakers, and all those interested can contact lightup360@pmi.hu with a subject regarding PMI Light Up 360 Presentation. The application deadline is April 24, 2022. 
More about applying for speakers:
Applications from project management experts from all Chapters are welcome
Applications for speakers are limited, so hurry up and send us your idea for the presentation at lightup360@pmi.hu
The presentation must last 360 seconds
Applications last until April 24, 2022.
Self-promotion is not allowed
One speaker will be selected to represent each PMI Chapter

Suggested topics for the presentation (you can choose another topic):
Experiences, best practices and plans with hybrid Working Environment
Leveraging Artificial Intelligence, Machine Learning and Data Analytics for successful Project Management
How to lead projects hit by a natural catastrophe or disastrous geo-political situation
Current trends in Social Responsibility Programs: Diversity and Inclusion; Increased Transparency Demand; Acting locally; Green Technology, etc.
Exploring this year's Global Megatrends: Digital Disruption; Climate Crisis; Demographic Shifts; Economic Shifts; Labor Shortages; Civil, Civic and Equality Movements
Other suggestions for presentation topics should be related to project management, PM tools, PM methodologies, PM case studies or anything similar.
Light Up 360 is free for all PMI members, project managers and anyone willing to witness such an interesting event and learn something new. Join us online on May 19, 2022 and experience an outstanding day of learning from regional experts in project management, good entertainment and networking with colleagues.
Register in advance here.
After registering, you will receive a confirmation email containing information about joining the webinar.
Cancellations must be received by 5:00 pm, 5 business days before the event and must be sent in writing by email to info@pmi.hu. There will be a 20% administration fee charged for cancellations, subtracted from the refund. Cancellation/refund requests will not be accepted less than 5 business days before the event. However, substitutions are welcome. Please let us know by 12:00 noon the day before the event of the person you wish to substitute by emailing info@pmi.hu.
Photography & Filming: Photographs, audio, and video are sometimes captured during PMI Budapest, Hungarian Chapter events. By registering, attendees hereby grant PMI Budapest, Hungarian Chapter and its representatives permission to photograph and/or record them at events, and distribute (both now and in the future) the attendee's image or voice in photographs, videotapes, electronic reproductions, and audiotapes of such events and activities.
It is no longer possible to register for this event